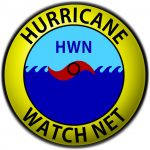 07/12/2019
Responding to Tropical Storm Barry, the Hurricane Watch Net (HWN) and WX4NHC— the Amateur Radio station at the National Hurricane Center (NHC) in Miami — have announced plans to activate.
The HWN will activate today (July 12) at 2300 UTC on both 14.325 MHz and 7.268 MHz.
"We will operate on 14.325 for as long as propagation allows and will suspend operations on 7.268 MHz at 0300 UTC," HWN Manager Bobby Graves, KB5HAV, said. "Net operations will resume Saturday morning at 1230 UTC (on both 14.325 MHz and 7.268 MHz) or as soon as the Waterway Net concludes operation." Graves said that once the net activates on Saturday, it will remain in operation until further notice.
Continue reading HWN, WX4NHC at National Hurricane Center to Activate for Tropical Storm Barry