June 23 and 24, 2018
Saturday morning dawned bright and early for Shirley and I as we prepared for our round robin tour of several ham radio clubs in the West Texas Section. I had decided that I would visit seven clubs in eight locations, as the Lubbock club was having Field Day at two separate locations. My wife Shirley KO5M and our dog Bear decided to keep me company on the trip. A decision that they may well regret. Looking back
we quickly had it reinforced to us that the West Texas Section is huge. We only covered a small portion of it and drove 800 miles!
As we all know, Field Day is a special day and time for radio amateurs. Decisions regarding the where, number of stations and antennas to be used and who does what are normally held well in advance of Field Day. As the time nears, clubs either start setting up their operation on a remote site on the Friday afternoon preceding the start of Field Day or they set up their stations on the morning of Field Day. Other folks chose to fine tune their station at home preparing to operate either part or all of the 24-hour Field Day period. In addition to radio operations, Field Day is a great time to visit with friends we haven't seen for a while and to eat a good meal usually on the Saturday evening during Field Day. Other more adventurous clubs have breakfasts and lunches served before and during setup and early operations.
Speaking of a club that likes to eat well, my first stop was at my home clubs operation at the Shriner's clubhouse. The Key City ARC had rented the clubhouse for Field Day. They will operate 3A WTX.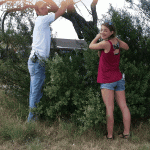 Upon our arrival at the Shriner's clubhouse preparations were well under way and the breakfast bell had been rung so folks were heading to breakfast. We did manage to get a photo of folks at work before they ate.
Brett KG5NLW and Kathryn KG5THK finish installing a dipole antenna before breakfast.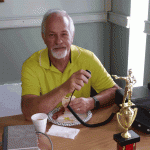 Bill KJ5DX operates the Talk-in Station while eating breakfast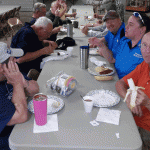 The KCARC Field Day Crew enjoy a hearty breakfast before the event begins. Starting in the foreground left side: Peg KA4UPA, Henry AE5SL, Jim N5COT, Allen KF5SPQ, and Mike KF5ZQB. Right side Jim K1UQI Druann KC5QOP, Kendall KC5FFQ, Bill KG5ZRC, Ann KG5AQX, Nathan AF5FJ.
After a brief visit with the Key City folks our next stop was Quanah, Texas 138 miles nor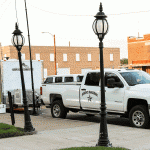 th. The folks at Quanah are not organized into a formal club but work together and have formed a very cohesive group. They have the support of their community and work closely with Emergency Management, the mayor, sheriff and county judge.

Hardeman County Emergency Communication Trailer was used for Field Day operations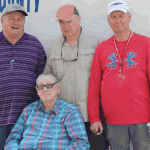 Hardeman County Leadership left to right Judge Ronald Ingram, Emergency Management Coordinator Frank Walden, Bill Price WA5NBP and Mark King KY7D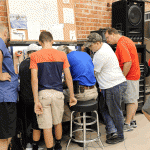 A highlight of the Quanah Field Day exercise was having the new young hams build their own dipole. Mark KY7D intently watches the process.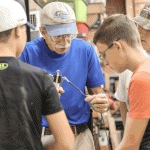 Curtis Foote KC5GEP, shows Luke, no call yet, Jackson KI5AFQ and KG5QIL how to connect a balun to a dipole antenna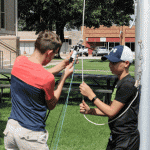 Jackson Ki5AFQ and Luke putting up dipole they built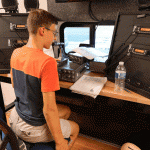 Jackson KI5AFQ on the air 2F WTX operating in the EmComm trailer.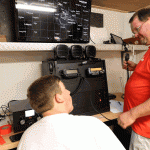 Hunter KG5QIL and John KF5BBJ operating the other HF station in the EmComm trailer
We had a wonderful time watching the young hams work together to get the dipole constructed and put on the air. Jackson KI5AFQ is 13-years old and working on his Extra class license. Hunter is 18-years old and also working to upgrade. Luke is studying for his technician license. A great group of young people!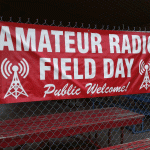 Moving on down the road our next stop was Childress at the Prairie Dog ARC where they had set up their Field Day activities in the Childress Fair Park where they operated 1A WTX. This was the shortest drive we had.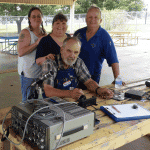 The banner outside the pavilion where the Prairie Dog ARC held Field Day
What the Prairie Dog ARC lacked in size they made up in enthusiasm and operations. 
Prairie Dog ARC club members left to right Debra KG5OVL, Barbara N5BAT, Harvy N5IVO, David W5DGT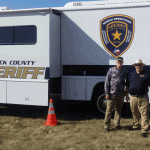 Leaving Childress our next stop was Lubbock. When we arrived in Lubbock we began our visit by stopping to meet with a group of hams who had set up operations on the lawn of TV station KLBK Channel 13. Participating in this Field Day operation was the Lubbock County Sheriff Offices Emergency Coordinator and several licensed Deputy's.
Operations at Channel 13 were from the Lubbock County Sheriff's Mobile Command Post and a surplus Army tent. Leland Fellows N5DGH and Lubbock County Sheriff Office Emergency Coordinator Clinton Thetford N5UQF prepare for operations
The Lubbock Amateur Radio Club, K5LIB decided to hold its Field Day operations in Meadow, Texas 28 miles away. After our visit with the group set up at the TV station we headed to Meadow.
At Meadow we found the club held their Field Day operations in the Community Center Building. Since we arrived fairly late in the day most folks had eaten and left for the day. Randy Reeves KA4AJL and Everett McArthur KE5QVC were still active onsite.
After a short visit with them we headed on to Midland where we would spend the night and visit the Midland and Odessa club Sunday morning. We arrived at our lodging in Midland at 9:30 p.m.
It didn't take long after we checked in to the motel to be fast asleep! Morning came way too early and we were up and heading for the Midland Amateur Radio Club. This year the club was holding its Field Day operations at the National Weather Service (NWS) campus. The HF stations were set up in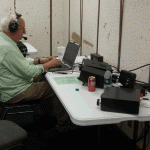 the old NWS building and the 6 meter and GOTA station was set up in the Conference Room of the new NWS building. Their operating class was 3A WTX.
David KF5WDJ operating the Phone station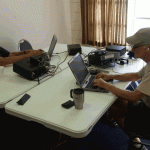 Left to right Roger W5LXS and Alan N5NA operating HF on CW and phone
After our visit with the Midland Club members we headed across the airport to visit the West Texas Amateur Radio Club—Odessa, Texas. The club was holding their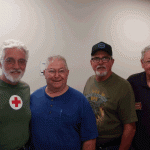 Field Day operations in the Red Cross building at the Midland International Airport where they operated as a 1F WTX station.
Left to right Diann KG5GQZ, John KF5YKP, Pete WB7AMP, Mark N5MI and yours truly
The Odessa folks were using the Ham Radio Station recently set up in the Red Cross building by John and Diann. Field Day was an excellent time for them to test operational capabilities.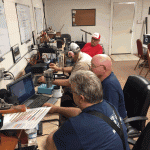 Upon completing our visit with the Odessa Club we headed on to Big Spring. The Big Spring Amateur Radio Club has its own clubhouse where they held this year's Field Day activities.

Foreground to rear Daren W5DTB, Henry KN3RD, Russ KF5PDF, and Pepper WF1RE Operating as 3D WTX.
As Field Day operations were drawing to a close I promised the San Angelo Club I'd visit them during Field Day. So, we said our good byes to our friends in Big Springs and headed to San Angelo.
The San Angelo Amateur Radio Club held its Field Day operations on the parade ground of Fort Concho. I arrived with minutes to spare before the official close of Field Day. Whew! Two stations were set up. One in a 5th wheel travel trailer and the other in a motor home.
We had the opportunity to talk with Mike KD5URW, Chad KD5SMK, Robert W7IKT and Carol N5CBQ.
Shirley and I said our goodbyes to the San Angelo folks, headed into town to grab a bite to eat and headed home for a much needed rest. Once at home I plopped down in my recliner and refused to get out of it until bedtime.
As I thought back over our almost 800 mile trip from Saturday morning until Sunday afternoon I recalled the many folks I visited with who were having fun and were actively involved with the operational spirit that makes ham radio the great hobby it is. All the Field Day sites I visited commented on how poor propagation was, but that did not dissuade them from enjoying the activity.
I was especially impressed with the group of young hams at Quanah who were engaged and eager to learn and to participate. As well know, youth is the future of our hobby! My hat is off to Bill Price, WA5NBP and the crew there for taking the time to ensure young people are involved.