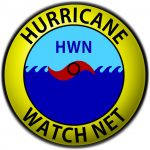 Hurricane Dorian, which sat nearly stationary over the Bahamas for several days – causing massive destruction there – before moving toward the U.S. east coast, resulted in a new record for hours activated during a single storm by the Hurricane Watch Net. According to the ARRL Letter, the net's volunteers were activated for 159 hours, 139 of them continuously, eclipsing the previous record of 151 hours last year for Hurricane Matthew.
Net Manager Bobby Graves, KB5HAV, noted that during the activation, net members collected and forwarded countless surface reports to the National Hurricane Center. After devastating the Bahamas, Dorian made a second landfall in North Carolina, then clipped the New England states and Maritime Canada before finally heading out to sea.
Another hurricane – Lorenzo – posed no threat to the western Atlantic but was threatening the Azores as of the last week in September. As a result, amateurs there asked AMSAT to keep the AO-92 satellite in U/V operation (435 MHz up, 145 MHz down) for potential emergency traffic. According to the AMSAT News Service, the satellite had been scheduled to switch to a 1296-MHz uplink during that time, but AMSAT said emergency use is always a priority.