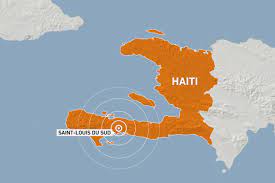 Based on United States Geological Survey (USGS) data, at 12:29 UTC
today, a 7.2 magnitude earthquake struck Haiti at a location 12 km NE of
Saint-Louis du Sud and 33 km ENE of Les Cayes, Haiti.
More precisely, the originating point was at 18.352N and 73.4801W at an
estimated depth of 10 km.
Jean-Robert Gaillard, HH2JR, President of the Radio Club of Haiti, has
reported that the earthquake has caused significant structural damage.
IARU, Region 2 has requested that the following frequencies be reserved
for emergency use during this event: 3750 kHz, 7150 kHz and 14330 kHZ.
HQ staff, lead by CEO Minster, is standing by to activate both W1AW and
W1HQ if needed. The ARRL President, CEO and the new ECFSC committee,
after consultation this morning, have designated Lee H. Cooper, W5LHC,
to be ARRL's point of contact with the IARU R2 Emcom group.
John Robert Stratton
N5AUS
West Gulf Director