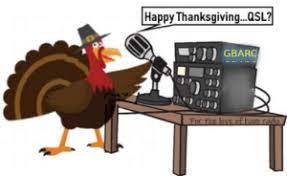 HAPPY THANKSGIVING EVERYONE!
Yesterday I received a new Newsletter from ARRL HQ.  It was the Club
Newsletter!  After a long absence HQ has began to send out club news on
a monthly basis. The email was sent to the Section Manager, Affiliated
Club Coordinator and the Club Information Officer's and Club
President's.  A club section in the QST Magazine will also appear soon.
Unfortunately, here in West Texas, we do not currently have an
Affiliated Club Coordinator.  The job is open and I'm taking
applications.  So, if you'd like to help your fellow clubs in the West
Texas Section please let me know.
Anyone may sign up for the Club Newsletter.  If you or your club did not
receive the Club Newsletter you may easily sign up for it.  The same
process you used to sign up for this newsletter and others from HQ has a
box to check to receive the Club Newsletter.
To sign up, go to our West Texas Section website  www.arrl-wtx.org  On
our West Texas Section website we have a link entitled "How do I sign up
for Section Emails".  Click the box and it will take you to the page.
You may also wish to sign up for other Newsletters while you are there.
More news will be forthcoming soon.  Enjoy your Thanksgiving and don't
eat too much pie!
73,
Dale
W5WI