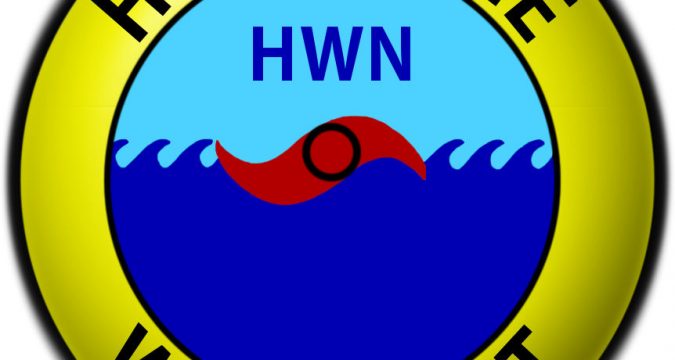 Tuesday, November 8, 2022 @ 11:00 AM EST (1700 UTC)
The Hurricane Watch Net is in Stand-By Mode.
The Hurricane Watch Net is closely monitoring the progress of Tropical Storm Nicole. Nicole is forecast to make landfall somewhere along the Florida east coast between Daytona Beach and Fort Lauderdale during the early hours of Thursday morning.
The Hurricane Watch Net will activate Wednesday morning at 10:00 AM EST (1500 UTC) on our primary frequency of 14.325 MHz. We will activate our 40-meter Net on 7.268 MHz at 4:00 PM EST (2100 UTC). We will remain on both 14.325.00 MHz and 7.268.00 MHz for as long as propagation will allow or until our services are no longer required.
During any Net activation, we look for reporting stations who can provide us with any measured or estimated weather information that we can relay directly to the forecasters at National Hurricane Center in Miami. Such weather information we look for is maximum sustained winds, winds gusts, wind direction, barometric pressure, rainfall amount – how much over x-amount of time, storm surge, and damage. Should you have any outgoing Health and Welfare Traffic before, during, or after this event, we are happy to assist as we work closely with the Salvation Army Team Emergency Radio Network (SATERN). We also provide backup communications to official agencies such as Emergency Operations Centers, Red Cross officials, and Storm Shelters in the affected area. Additionally, we also collect and forward significant damage assessment data to government and non-government officials requesting such.
When active, we:
Disseminate the latest advisories issued by the National Hurricane Center in Miami, FL. We do so for marine interests, Caribbean Island and Central American nations, and other interests where public media is not readily available.
Obtain real-time ground-level weather conditions and initial damage assessments from amateur radio operators in the affected area and relay that information to the National Hurricane Center by way of WX4NHC, and when required, the Canadian Hurricane Centre.
Function as a backup communication link for the National Hurricane Center, National Weather Service Forecast Offices, the Canadian Hurricane Centre, Emergency Operation Centers, Emergency Management Agencies, Non-Governmental Organizations, and other vital interests, which can involve military relief operations, involved in the protection of life and property before, during, and after a hurricane event.
Additionally, we assist in the handling of outgoing Health & Welfare Traffic from the affected area as members of the SATERN Net are on frequency standing by to handle such.
Any changes to our plans will be posted on our website homepage of www.hwn.org and our Facebook page.
On behalf of the Management and Net Members of the Hurricane Watch Net, our sincere thanks to everyone who uses 14.325 MHz and 7.268 MHz for various Nets and rag-chews to allow us to use the frequency. Having a clear frequency certainly makes our job easier, and we know those in the affected area greatly appreciate it as well!
Our prayers for those who could be affected by Ian. HWN is prepared, ready to serve, and do what we can to help save lives.
Kind Regards and God Bless,
Bobby Graves – KB5HAV
Hurricane Watch Net
Net Manager