Kim Opitz, WA5X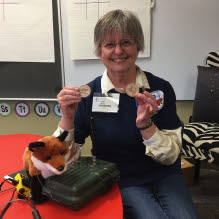 Congratulations to Kim on her selection as Ham of the Year for 2019. Kim has served as Club President since January of 2018. She has participated in every club activity available such as Lamar Science Day, Boy Scout demonstrations, Van Work Days, Route 66 on the Air, Skywarn Expo, Amarillo OEM Prep Expo and Panhandle Regional Planning Commission Preparedness Conference, Field Day, and two bike race communications teams. She also co-organized (with her "better half" David WA5X) the special event station W5V commemorating Veterans' Day in 2018 and "Welcome Home Vietnam Vets" at the Texas Panhandle War Memorial in 2019 and has been the club's Tri-State Fair Parade participation organizer for the past two years.
As Club President, Kim has been instrumental in providing leadership that resulted in updated membership lists, replacement/upgrading the club repeaters, improving the annual swapfest to an actual HamFest with presentations and classes, club hospitality (coffee and donuts), club t-shirts, and many behind-the-scenes activities too numerous to list here.
Her can-do attitude and leadership by example is very much appreciated by the club and her fellow officers. Thank you for your service as Club President these past two years!