Well, family time is about to overtake me!  But I thought I would take a time out from our celebrations to update you on what I know regarding the response to the Quad State Tornado outbreak.  I am notdeployed now, and do not intend to deploy again until 2022.
Texas Contribution
First you should know that there are a lot of participants across many organizations from here in Texas.  That crosses government, business, and Non-profit segments.  Some examples:
Government: Gov. Abbott approved the activation of Texas A&M Task Force 1 personnel & to deploy the Central Incident Support Team Cache.
Business:  Shiner Beer, a Texas company, contributed $100,000 to fund feeding and disaster emergency supplies to the Quad State Tornado outbreak response.
Non-Profits: Texas Baptist Men, Catholic Charities, and many others are contributing goods and services such as chain saw crews to the cleanup efforts.  As well as national partners, such as World Central Kitchen and Salvation Army.
With thousands of homes affected and damage spanning hundreds of miles and several states, this response is a team effort. Massive disasters like these tornadoes leave behind an incredible amount of need and no single organization can do it alone. The Red Cross will be part of the solution, but not the only solution, to help families recover. The Red Cross is working very closely with the entire response community, government agencies, community groups, other non-profits…to coordinate emergency relief efforts and get help to people as quickly as possible.
Some info on other states:
While the greatest impact and focus is on Kentucky, there are significant efforts in other states:
Arkansas & Missouri are in recovery phase, and Red Cross is working at Multi-Agency Resource Centers – These centers provide a "one stop shop" for affected folks to get support, resources, and aid from all volunteer organizations active in disaster.
More: https://www.facebook.com/ArkRedCross/photos/a.95959106091/10159804843176092/
Tennessee: The Red Cross opened several Service Sites to provide relief supplies and help affected families get access to caseworkers to help aid their recovery.
Kentucky: Hardest hit, Kentucky remains in the Response phase with more than 1100 folks in 26 independent shelters last night.  Red Cross is working with state and local resources to continue to support emergency lodging through shelters, state park lodges, and hotel rooms.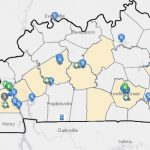 Map of Shelters, Warehouses, Aid Stations, Staff Shelter, Kitchens, Recovery Outreach,…
Key to providing service is an accurate damage assessment.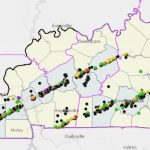 Red Cross Uses RC View and Survey 1-2-3 to visualize and manage Damage Assessment.  This damage assessment is shared with participating agencies to facilitate needs based aid to affected families.
Red Cross workforce on Kentucky alone is currently over 750 trained disaster responders.  Most in Mass Care, Individual Disaster Care (Health Services, Disaster Mental Health, and Spiritual Care), as well as Recovery.
Red Cross HQ in KY is a hive of activity supporting sheltering, Mobile Feeding, Recovery and Individual client care, logistics, and Disaster Services Technology!
Disaster Services Technology meets the needs of Computing, Printing, Communications, Networking, and Customer Service across the Disaster Relief Effort.
Mobile feeding is being provided to residents who are cleaning up their properties, this is being provided by a fleet of Emergency Response Vehicles (ERVs).  These vehicles provide warm meals, water, snacks, and disaster emergency and clean up supplies.  Very proud of our Hill Country Chapter DST lead Glenn KI5BLI who is engaged currently in Disaster Emergency Supply distribution in Kentucky.
Well, I hope that gives you a flavor of the response efforts.  Thank you to West Texas Section / Dale W5WI for inviting me to your section Zoom meeting last week.  That motivated me to reach out to all of you for this update.
It gives me a great deal of hope to see all these organizations pull together in mission to help the folks impacted by the Quad State Tornado outbreak.
If I do not speak to you before, please have a happy & safe holiday.
Kevin KF5FUZ
DST Lead
American Red Cross