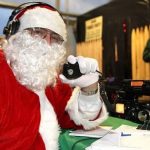 Time flies when you are having fun! This year has flown by and the holiday season is upon us.
I want to wish you and your families a very Merry Christmas and a healthy and prosperous New Year! May God's blessing be upon you!
I hope each of you has enjoyed ham radio as much as I have this past year. Although I haven't gotten to meet and visit with as many of my fellow hams as I would have liked to, I did meet some wonderful folks who are enjoying our hobby and passing it on to the next generation. I visited several clubs over Field Day and I enjoyed visiting the folks and I really enjoyed the fellowship this activity brings.