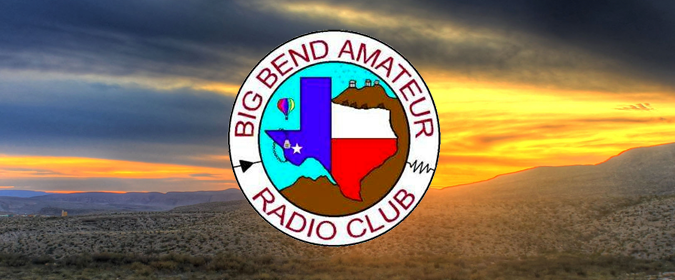 City: Alpine, TX
Call Sign: K5FD
---
The BBARC met at the American Legion Hall in Alpine for the first time on August 10.  The West Texas National Bank had been the meeting site before COVID.  The bank lobby reopened for a few months but once again closed.  During COVID shutdown, the club held meetings on the 2m repeater system.  A motion was passed to find out the details of making the American Legion Hall the permanent club venue.
The BBARC will work Cycle Fest
September 18
& 19.  This is a fun bicycle ride around the Davis Mountains 75-mile Loop.  BBARC members provide communications for five aid stations in conjunction with the Fort Davis Lions Club.  The BBARC 2m repeaters cover most of the course.  The event headquarters is the  Prude Ranch.
---
BBARC Friends,
Our meeting this past Tuesday had a venue change that went from the bank lobby to the repeater system to the American Legion Hall in  Alpine just 24 hours before the meeting.  The club is looking into making the Hall the primary venue.
The WTX ARRL section now has club news on its web site for each club.  BBARC will update weekly and has two items from this week.
Next meeting is September 14 at the American Legion Hall and should have a presentation.  Check the home page of the club's web site for the most up to date meeting information,
bigbendarc.com
.
We just added a BBARC member sign up list for events to our web site.  One is Cycle Fest on September 18.  Links are on the home page in the announcement.
73,
Scott KI5ANQ
BBARC Newsletter Editor