City: El Paso, TX
Call Sign: W5ES
Webpage: http://www.w5es.net
---
---
Silent Key
Larry Springsteen
WB8LBZ
August 9, 1952 — April 2, 2023
 I am very very sad to report the loss of Larry Springsteen, WB8LBZ, who passed away unexpectedly, Sunday April 2, 2023. Larry suffered from double pneumonia resulting from cancer treatment.
 Visitation will be April 11, 2023 from 5:00-8:00 PM with Prayer Service at 6:00 PM at Sunset Funeral Home-Northeast at  4631 Hondo Pass in Northeast El Paso.
Funeral Services will be held at 11:30 AM Wednesday April 12,2003 at Sunset Funeral Home Northeast followed by Internment at Ft. Bliss National Cemetery.
Larry's passing will leave a hole in many of our lives and will be sorely missed.
Please offer you warmest sympathies and support to his surviving family.
---
---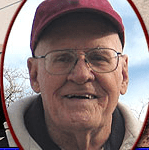 It is with some sadness that I report the passing of Lonnie Abernathy on
December 13, 2021 , peacefully, at the age of 98. Lonnie is survived by his wife,Maria Elena.
Lonnie was most notably a professor of Material Sciences and Dean of Engineering 1965-1969. at UTEP. Services at Ft. Bliss will be private.
While not an active ham in recent years, Lonnie has been a longtime supporter and benefactor of W5ES through donations of money and equipment and a regular attendant at our dinner meetings.
Many of you will know that Lonnie's first wife, Margaret "Peggy" Abernethy was a very active
ham radio operator and past president of W5ES. His son, Charles, who passed at age 36 was also an active Ham.Charles' ICOM transceiver was donated to the club by Lonnie and is in use in the W5ES radio room.
---
It's a new Year and another smiling face now graces this page. Please welcome and support your new officers who will be officially installed on Friday January 13th!

With humility and respect, I want to introduce myself as the new president of El Paso Amateur Radio Club, W5ES. I have been a ham radio operator since September 2019 and at this Radio Club it where all started for me.

I was a drill instructor for the West Texas Young Marines here in El Paso. In May 2015 the Young Marines needed a ribbon for communications and I stumbled upon this Radio Club and contacted Mr. Paul Wilson, AE5OJ, to grant us access to the Radio Club, to allow the Young Marines to operate radio, to have an education about what ham radio is all about, and I was hooked then.

Currently I am a Licensed Mental Health Counselor here in El Paso. I was born and raised here in El Paso.  I graduated from Webster University at Ft. Bliss, 2014 and a Burges Mustang Alumni, 1987. After graduation from high school, I joined The United States Marine Corp (USMC) 87-93 and was stationed in Camp Pendleton, San Diego, California.

It will be an honor and privilege to serve as the new president of El Paso Amateur Radio Club.

Sincerely.

Javier Polendo – KI5GLT
---
Ho! Ho!, Ho! Said the fat man in the red suit. As this year draws to a close, we look forward to
celebrations and gift-giving with family and friends and hope for a better, less troubled New
With all of the issues with Corona virus we have managed to stay in touch and conduct
activities with remote meetings and social media. Thankfully, as amateur radio operators, we
have our own, commercial free, sensible truthful media of airwaves and repeaters.
We welcome and look forward to new faces in our 2022 administration. Let's all join in and
support Javier, Kelly, and the others to expand our interests in amateur radio and good
fellowship. We will continue to provide interesting topics and events in the area of digital
media like WinLink, DStar, Fusion, and AREDN as well as continued use of the HF airwaves as the bands open up.
We are planning to hold an auction to liquidate much of the equipment accumulated over the last two years. It will be on
December 11th from 5:30PM to 8:30PM at the clubhouse.
Please don't forget to help out at the clubhouse on the morning of December 4, during and after the VE session, to
organize and catalogue the items for the auctions, and plan to attend the December 10th business meeting to vote on
the proposal to share part of our parking lot. Your thoughts and vote are important!
---
Well, if you didn't eat sauerbraten, Mary's enchiladas, Pete's antipasto, or Kelly's cake, you missed a great dinner last Friday night. There was also an ARES Zoom meeting so if you attended that you are forgiven.

On October 8th we elected new officers for 2022 as follows:

President – Javier Polendo       KI5GLT

Vice President – Kelly Briarton     KB2RN

Secretary – Paul Roberts                   K1DPR

Treasurer – Pete Hensgen                    KB5HTF

Trustee – Keith Amspaugh                     WD4ISK

As we turn over the reins to a new slate of officers and it is time to support and participate in the planning of what we want our club to be. We are working on several work sessions on Winlink and Mesh Nodes and are planning a program on D-STAR. We want to review the equipment we have and equipment we want in our radio room with the desire to get more regular use.

Did you think we forgot??   WORKED ALL EL PASO CONTEST – November 6,7. See details on page 34.

All modes, All Bands, $5.00 entry fee submitted with log. Winners announced in January at WAE Banquet.

The W5ES repeater at Western Tech has FINALLY been reconnected to the internet. Node and room details are on page 3 We'll spend some time in the future demonstrating the features of Fusion and Wires X with the repeater.

Due to the Thanksgiving holiday, W5ES will not meet on November 26. HAPPY THANKSGIVING!

Stay Healthy, Stay Happy.

73,

Paul AE5OJ

Visit us on the web: w5es.org or www.qsl.net/w5es
---
We sadly report the passing of Ablert Gemoets, KB5KWW on October 31,2021.
Alberto Ambiorix Gemoets Jr.
JUNE 19, 1947 – OCTOBER 31, 2021

Albert Ambiorix GEMOETS Jr., age 74, of El Paso, Texas passed away on Sunday, October 31, 2021. Albert was born June 19, 1947 to Cristiana Merino de Gemoets and Dr. Alberto Ambiorix Gemoets Sr.
Visitation for Albert will be held Wednesday, November 10, 2021 from 5:00 PM to 8:00 PM with Vigil service at 7:00 PM at Funeraria del Angel Central, 3839 Montana Ave, El Paso, TX 79903. Mass will follow on Thursday, November 11, 2021 at 11:00 AM at St Joseph Catholic Church, 3729 Hueco Ave. El Paso, TX. 79903. Committal to follow at 12:30 PM at Restlawn Memorial Park, 4848 Alps Dr. El Paso, TX. 79904.
---
We are looking forward to a Zoom presentation by Dr. Bob Heil on sound and improving your station performance on August 27th at 7:00PM MST. Bob volunteered to talk with us after chatting with Joel, N6TOC so be sure to tune in! Check out his attached Bio!

Bob Heil is a sound engineering innovator creating and manufacturing some of the first large scale arena sound systems for leading entertainment groups. The past decade, Heil Sound has led the commercial Broadcast and live entertainment industry with new innovations of microphone technology.  He has consistently worked as a teacher and lecturer, often appearing at national audio and Amateur Radio conventions.   He has published five books on music and technology.

Bob has been giving a number of awards and honors including the "International Amateur Radio Operator of the year" in 1982, an award that had been held by Senator Barry Goldwater, K7UGA the year before.

He continues to play the Wurlitzer theatre organ at several major theaters and produces the "Theatre Organ Under the St Louis Arch" program each Saturday at 7:00 pm on the 100kw Tennessee based International shortwave station, WTWW.  He holds an Honorary PHD in Music and Technology from University of Missouri.  Heil Sound is the only manufacture in the Rock n Roll Hall of Fame.

His presentations include

* How to adjust your DSP radios

* Phasing

* Antenna Arrays

* Visit to Bell labs

* How the Human Ear works

 Dr. Bob Heil K9EID

SKYPE bobheilmac
---
Hi there Hamsters,
I have attached the latest W5ES bulletin here. Please read and enjoy. Lew has an interesting article on Emergency Coordination. There is information about required Radiation evaluation and/or testing, and we have begun to list items for sale.
Please advise any problems or questions you might have.
73,
Paul AE5OJ