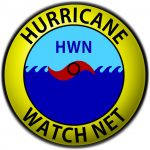 The Hurricane Watch Net (HWN) has announced tentative plans to activate on October 9 at 2100 UTC on both 14.325 and 7.268 MHz as now-Hurricane Michael is forecast to become a Category 1 hurricane later today. It is expected to make landfall somewhere on the Florida Panhandle on the evening of October 10 as a strong Category 2 or possibly a major Category 3 hurricane.
"However, don't focus on the primary dotted line of the forecast track, as Mother Nature has a way of changing her mind as to where a storm can go," HWN Manager Bobby Graves, KB5HAV, cautioned.
Now boasting sustained winds of 75 MPH, the storm is moving to the north at 7 MPH. The National Hurricane Center (NHC) said storm surge and hurricane watches are now in effect for portions of the northeastern Gulf Coast area. Some areas along the Florida Gulf Coast are especially vulnerable to storm surge, regardless of the storm's exact track or intensity.
Graves said that given the current forecast track and forward speed, the HWN has tentative plans to activate Tuesday afternoon at 2100 UTC, remaining on 20 meters for as long as propagation allows and suspending operations on 7.268 MHz at 0300 UTC on Wednesday, October 10. Operations will resume at 1230 UTC on both 14.325 MHz and 7.268 MHz and will remain in operation until further notice.
Continue reading Hurricane Watch Net Announces Plans as Hurricane Michael Approaches Gulf Coast